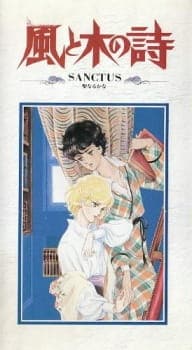 Títulos Alternativos:The Poem of Wind and Trees, The Song of the Wind and the Trees, Kaze To Ki No Uta: Sei Ni Naru Ka Na, KazeKi
Japonês: 風と木の詩 SANCTUS-聖なるかな-
Ano: 1987
Duração: 1 hora
Gêneros: Drama, Histórico, Romance, Shoujo, Gay

MyAnimeList

Sinopse: 1887, em um remoto internato de elite na França: Serge Battour retorna depois de sua formatura, e relembra os dias de sua juventude …
1880, na mesma escola: Filho de visconde e de um prostituta de Roma (ambos falecidos), Serge é inteligente, doce, talentoso e alienado por sua família devido a sua herança. Ao ser enviado para sua nova escola, ele divide o dormitório com Gilbert Cocteau, um lindo e solitário rapaz que vende seu corpo por razões desconhecidas. As tentativas de Serge de se aproximar de Gilbert fracassam espetacularmente, e ainda há algo em ambos que os atraem um ao outro.
Feito em parceria com o P'Tieris Fansub
Tradução: Maki
Revisão: André
Encode: Marcus
Formato: Mp4 (hardsub)
Resolução: 480p
Download: Mega – Google Drive
Páginas Similares